World Vets Textbook Drive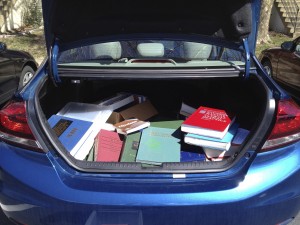 Earlier this year after seeing these great videos (here and here) by Dr. V of Pawcurious and Dr. Andy Roark I went to our local veterinary medical association to organize our own local textbook drive.
These books help World Vets, an organization that provides veterinary relief across the world. Anyone can help this organization, even if you don't have veterinary textbooks, by volunteering or donating needed supplies.
I worked with our local veterinary medical association president on the project. We found that it was fun, easier than we expected, and brought together our local community of veterinarians.
Here's what we did:
1 month prior: Faxed flyer to all practices in our local veterinary association telling them about the book drive and discussed it at our monthly meeting.
1 week prior: Called hospitals and asked if they had any books to donate and reminded them when we were coming to pick up books. About half the hospitals we called were still unsure whether they were donating, but the phone call reminded them to check with their doctors.
If they did not have any books to donate, we told them we would repeat the drive next year and to hang onto any unneeded books in the future.
1 day prior: Called hospitals that were not sure if they had books to donate. Set up final pick up schedule.
Day of Pick Up: Drove to hospitals and picked up books. Boxed them in banker's boxes (file size boxes available at most office supply stores) and shipped. Many shipping companies give discounts if all your boxes are the same size, and these boxes are perfectly sized for textbooks.
Zoetis Animal Health generously paid for shipping.
Overall it was a great experience.
If you're interested in running a drive yourself you can get more details at the World Vets Textbook Drive website.
Has anyone else run a similar drive? How did yours go? Were there any pitfalls you would avoid or any unique ideas that helped?