The Dog Fight – For the Win Wednesday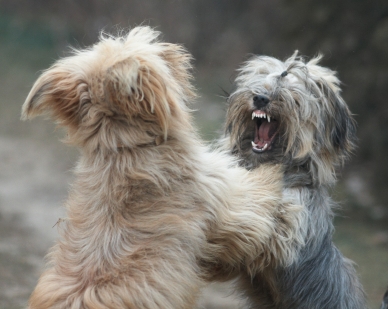 Sometimes it's hard to see the difference you're making in the world. So when a day comes along when you feel like you've made the the world better, it's worth a celebration!
Monday night I felt like a superhero.
I was just pulling into my neighborhood after a long day at the hospital, when all of a sudden a dog slipped its collar, ran in front of my car, and started attacking another dog on the other side of the road.
I quickly pulled my car to the side of the road and got out ready to help, break up the fight, and hopefully help prevent people and pets from getting hurt.
Luckily, the fight was breaking up, but I helped make sure it stayed that way.  One dog was still lunging for the other and had a very loose collar; they needed to get farther apart. I introduced myself as a veterinarian, made sure no one was hurt, and asked if I could give some general recommendations* for training and helping prevent this from happening again.
Everything wrapped up with everyone home, safe, with no wounds, rabies vaccines up to date, and a little wiser than before. I went home with my adrenaline racing but feeling I made a difference.
It was a good day.
Here are some of the tips I passed along that you might find helpful too. If you want more information on helping break up a dogfight in the first place, check out this earlier blog post.
Take the dogs where they cannot see each other QUICKLY. Just because they're not fighting doesn't mean they can't start again.
Exchange the date of the dog's last rabies shots. The date it was given should be on the rabies tag, which should be kept on a dog's collar.
Try to get the other person's contact info if possible. Use common sense. Don't bring the dogs closer together or lose control of the dogs by fiddling with a cell phone.
Be careful when handling your pet. Since they might be scared or painful, they're more likely to bite.
Some things can wait until you get home, like trying to adjust your pet's collar to the right fit. Get home quickly, fix the problem, then finish your walk at a quieter time of day.
Prevent future fights, especially if your pet was the aggressor.

Talk to your vet to see if there is a medical problem making your pet more likely to be aggressive. Pain is a common one.
Work with a board certified veterinarian behaviorist if recommended by your vet or a qualified positive certified dog trainer recommended by your vet. The wrong kind of training can make these problems worse.
Was there ever a time you felt like you got to rush to the rescue?
*Do you know why I said I gave general recommendations? Even a veterinarian cannot give advice specific to a specific pet unless they have a veterinary-patient-client relationship with that pet. Since I hadn't met these dogs before or their owners, even I can only give them overall advice not advice specific to their particular pet. As such this entry as with all my medical posts don't take the place of advice from your personal veterinarian who knows your pet best, their history and can see them with their full senses during a physical exam.