Book Review – Andrea Arden's Little Book of Dog Tricks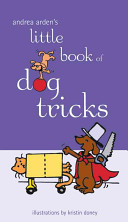 A short and sweet handbook that is focused and to the point.
This book shows you how to teach your dog the basics (like sit or down), some trickier classics (balancing a treat on the nose, roll over), and some tricks you never thought up (like "Lights Out!")
Even better, it teaches you the fundamental styles of training  and how to use simple tools to construct your own trick from scratch.
A lovely book that reminds us that training is – and should be – fun!