3 Steps to Choosing the Perfect Pet Sitter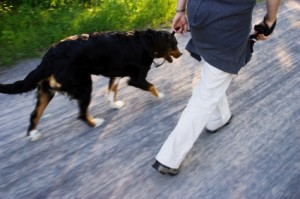 1. Get References
Ask animal professionals like your veterinarian, groomer, or animal trainer which pet sitters they recommend. Not only can they tell you who they like working with, but they can give you a better idea than friends or family which pet sitters have genuine skill handling animals.
Any pet sitter should provide you with a list of client references on request.
When I was looking for Riley's dog walker, I was impressed by the veterinary recommendations I got for Everything and the Dog, the group we eventually hired.
2. Get Personal
All professional pet sitters should insist on a meet and greet before they sign on. Many will offer this free of charge but sometimes there is a nominal fee.
Every pet and every pet sitter are different. You can't tell if it's a good match without a first date!
Pet sitters should want to know what makes your pet unique.
What do they like or hate? What are their daily routines? Does your pet have specific fears? A great pet sitter should get to know your pet personally and not treat them as just another dog or another cat.
3. Find a Professional
You get what you pay for. It might seem easier and less expensive just to hire the kid from next door, but you could be setting yourself up to pay a lot more in the long run.
This is what a professional pet sitter can give you that your neighbor can't:
I – Financial Protection
A professional pet sitter should be able to provide you with written proof that they are insured and bonded.
A company that is bonded is putting their money where their mouth is when it comes to their employee's honesty. You are covered in the event that anything is stolen from your home.
Pet sitters are insured in case your pet injures someone or in case anything happens to your home while they are pet sitting for you.
You want to make sure they have care, custody, and control insurance as well. This makes sure your pet and property within your home are protected against injury.
Say the neighborhood kid forgot to put Fluffy in her cage and she ate your entertainment center. You're out of luck financially, but you would have been covered if you had a pet sitter with care, custody, and control insurance.
A good pet sitting organization will also provide criminal background checks on their employees so you can be sure no unsavory characters are coming into your home.
The Pet Sitter International Pet Sitter Locator helps you locate professional pet sitters in your area and show you whether pet sitters are insured, bonded, background checked, even if they have pet first aid experience.
II – Expertise
Professional pet sitters have more animal handling experience and many have veterinary experience too. Ask your prospective professional pet sitter about their expertise.
When my dog Riley started having seizures at the end of his walks, it meant the world to me that our professional dog walker, Kim, knew exactly what to do.
Professional pet sitters should be easy to work with, set clear experiences for you and their pet sitters, and know what to do in the event of emergencies.
Pet Sitters International has a great list of interview questions for pet sitters to help you make sure this is the case.
Membership and certification by a professional pet sitting organization shows the pet sitter is committed to providing excellent service.
Pet Sitters International has a Certified Professional Pet Sitter (CPPS) Certification program and the National Association of Professional Pet Sitters has a certification program too.
Both require the pet sitters pursue continuing education in pet health and wellness so they can provide excellent care for your pets.
After speaking to the Pet Sitters International conference, I cannot recommend this excellent group of people enough. Learn more about this great oganization in my blog entry "Is Your Pet Sitter a PSI Pet Sitter?"
So remember: If you want to find the perfect pet sitter just remember 1) request references, 2) get personal, and 3) make sure you hire a professional!
You can learn more at the websites below:
Find the Right Pet Sitter for You and Your Pets – Pet Sitters International
Choosing a Pet Sitter – The Humane Society